Meet Our Donors
We thank all our planned-gift donors for their generous support. Here are some of their stories.
FACULTY MEMBER PLANTS SEED TO SUPPORT AND PRESERVE ENVIRONMENT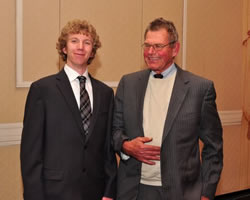 Thomas Anderson (right) congratulates Nick Jackson on receiving the Thomas J. Anderson Endowed Scholarship at the annual Educational Foundation Scholarship Dinner.
Thomas J. Anderson has been an adjunct instructor in biology for Delaware County Community College for 22 years. He has also taught plant physiology, ecology and related courses at Cheyney University of Pennsylvania. He puts into practice what he teaches in the classroom on his 20 acre farm in Chester County where he grows fruits and vegetables. According to Tom, he's still learning.
Tom also volunteers with the Natural Lands Trust, the region's foremost conservation organization, which protects the forests, fields, wetlands, and streams that are essential to the sustainability and quality of life in eastern Pennsylvania and southern New Jersey.
Tom is disappointed that more students do not pursue academic majors leading to careers in the environment, sciences or medicine, as "that is where the jobs are," he says. Tom believes that students who undertake these challenging programs are "our hope for the future." His love for the environment and sincere interest in helping students motivated him to establish the Thomas J. Anderson Endowed Scholarship for students with an interest in the environment.
The inaugural recipient of the scholarship was Nick Jackson who met the instructor at the Delaware County Community College Educational Foundation Annual Dinner in October 2013. Nick's enthusiasm and leadership in helping to create a community garden and environmental hiking trail on campus made him the favored candidate for this award.
To create an endowed scholarship that will earn revenue in perpetuity, Tom rolled over an IRA to fulfill the required $10,000 minimum investment. He has added to that fund with a cash contribution and intends to enhance it with a bequest.
Alumni or friends can provide support for the College now or in the future through many financial options, including life insurance policies, charitable gift annuities, bequests, IRA rollovers or appreciated securities. For more information, visit dccc.plannedgiving.org. or, call the Office of Institutional Advancement at 610-359-5131.